---
---
---
---
---
---
---
---
Older News Articles:
A number of Internet users are reporting a fresh version of a ransomware virus circulated by cyber criminals which exploits the name and image of Spamhaus to trick computer users into paying fake fines using MoneyPak. Computer users should know that no authorities or organizations (including Spamhaus) use screen blocking messages to collect fines for any law violations. Users whose screens are blocked by this MoneyPak Ransomware Virus should research these sites to remove the problem from Windows OS machines:

At www.malwaretips.com - This is a guide to using the Windows System Restore tool to remove the infection.

At www.bleepingcomputer.com - This is a step-by-step guide showing how to use Rkill will try to disarm the infection.

Both these are do-it-yourself free ways to remove the infection. If they seem too confusing, please look to an IT professional for assistance. Also, do try have the latest and best Windows OS anti-virus installed and running at all times.

Others have posted some ideas at this Yahoo website.

The fake 'Spamhaus' window: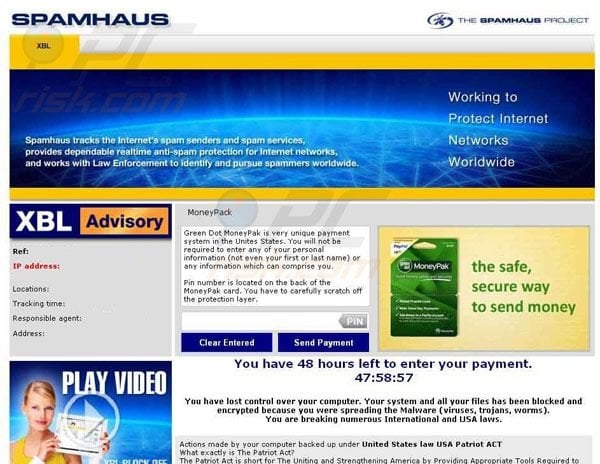 This "Spamhaus branded" ransomware was first spotted by Spamhaus over a year ago. We are also working to have this version's Command & Control server at "xblblock.com" shut down.
---
See also: Spamhaus Online Agent (MoneyPak Scam)